Customer Feedback

We have only included written feedback into this section. These comments are just a sample of what our clients say. Obviously we have an occasional issue that needs resolving. If that is the case we put the issue right. We pride ourselves on doing a great job for every client.
The following snap is from our Google Business Listing - extracted 20 Feb 2020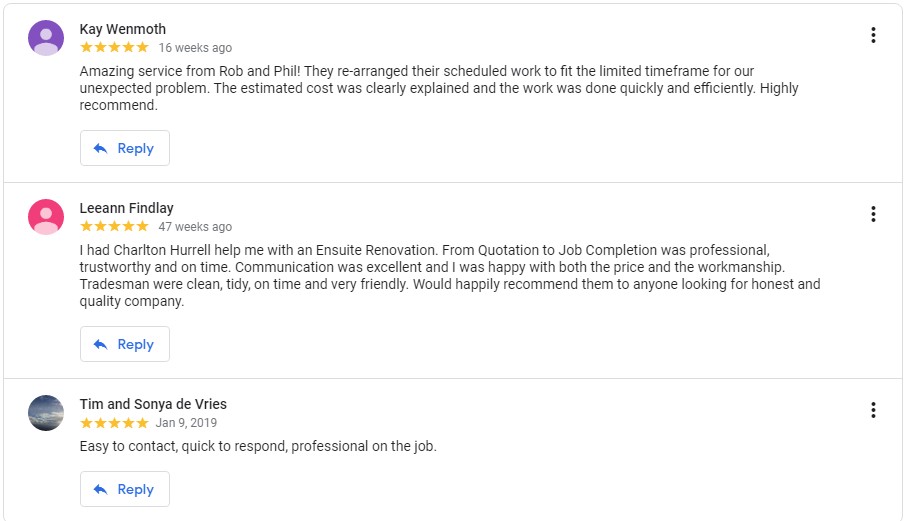 August 20:
Thanks for the work done at our property. Reon and Mitchell were absolute machines and particularly with the challenging weather conditions they had, very professional and cleaned up well once they had finished. Very impressive, would be nice to get contractors like that all the time.
-  IS and TS
"Once again your men have exceeded expectations with the quality and timeliness of their work. Your firm would be one of the best firms I have dealt with in any area of business. Thank you"
- TK
"Many thanks to the team for their prompt attention to the problem"
- RE
"A pleasure to deal with you"
- MF
"Good job. Pleasure to do business with Graham and Phil"
- DT
"Many thanks it's great to be able to use all facilities again and thanks for such prompt service"
- JR
"Dear Graham,
Very happy with what your guys did, fixed our problem and explained the cause which was nothing to do with your company... Thank you for your willingness to help... How you handled this speaks volumes about the sort of business you run where you do stand by your work. Very impressive."
- SK
"We have used Charlton Hurrell for a number of years now and appreciated your good service"
- ES
"Thanks to your team for the prompt response and good workmanship"
- PM
"I am very happy with the work your team has done. They are a great bunch of guys."
- PB
"Many thanks for your speedy help and fantastic job"
- SB
"Dealing with Charlton Hurrell Drainage was a trouble-free process. From quote to job completion, the work was completed professionally and in a timely manner"
- RY